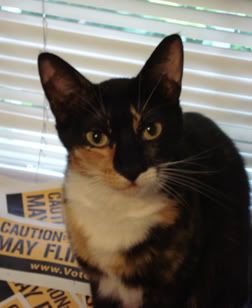 Russell Wilde
News 8 Austin
January 9, 2009
Last year, the
San Marcos Regional Animal Shelter and Adoption Center
took in thousands of lost or abandoned pets.
Now, thanks to the city's new animal ordinance they hope to return many of those animals to the owners.
The new ordinance requires all pet owners to have chips implanted in their pets.
San Marcos Animal Services Manager Bert Stratemann said the microchips are more reliable than the current tags.
"It's not going to get lost, it's not going to get taken off when you give it a bath," he said. "It's a way we can help track those animals back to their owners."
Some pet owners said the plan is the responsible thing to do.
San Marcos resident Kevyn Reed has a cat with a chip. She thinks the technology provides extra security.
"If you own a pet you should want to know where your pet is at all times, and that's kind of a safety net for you," she said.
The microchip will replace the city's current annual license and fee.
The new ordinance also restricts how pets can be chained or tethered in yards and bans selling or giving away animals on
the side of the road or in parking lots.
The changes take effect April 1.