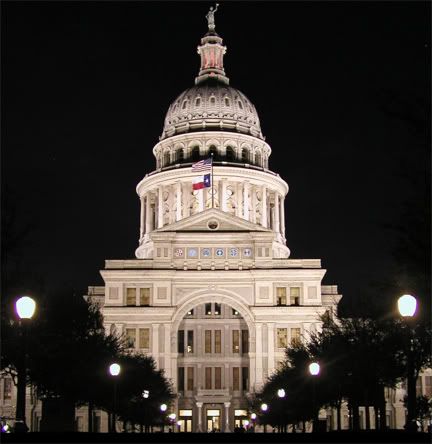 During closed-door meeting, officials discuss possible checkpoints and more cameras.
Mike Ward
Austin American-Statesman
January 28, 2010
One week after a man opened fire with a pistol outside the Texas Capitol's south entrance, legislative leaders took a possible first step toward beefing up security at the storied landmark with checkpoints and more surveillance cameras.
The move came Thursday during a closed-door meeting at which top officials with the Department of Public Safety briefed key aides to Gov. Rick Perry, Lt. Gov. David Dewhurst and state House Speaker Joe Straus, as well as other legislative leaders, about the Jan. 21 shooting and recommendations to enhance Capitol security.
Although officials declined to comment on the details of the recommendations, citing security concerns, participants confirmed that security checkpoints at Capitol entrances could be on the way.
One possible sticking point: how to allow Texans with concealed-weapons permits to get through security with their guns. Perry, Dewhurst and Straus probably will make the final decision.
If approved, enhanced security or controlled access to the statehouse would mark a historic change. Public entry at the Capitol has been open to all comers over the years — even though surveillance cameras and the presence of troopers in the halls have been beefed up since the bombing of the Oklahoma City federal building in 1995 and the terrorist attacks in 2001.
Metal detectors and package scanners have been used temporarily several times in recent years at the entrances to public galleries of the legislative chambers during sessions and for a time during the second Gulf War. Driveways are staffed by troopers who check motorists, and steel bollards block vehicle access.
"We are examining a number of options for additional security at the Capitol and have not yet hit upon a final plan," said DPS spokeswoman Tela Mange. "We can't discuss Capitol security beyond that."
A Perry spokesman said the governor's comment last week about enhanced security still stands: "I'm always up for looking at new ways to protect our citizens, but the last thing I want is the Texas Capitol to turn into" Dallas-Fort Worth International Airport.
In a statement, Dewhurst said, "While we want to encourage people to visit the Texas Capitol, in a post-9/11 world and in light of last week's shooting incident, we need to seriously consider the DPS' enhanced security recommendations, including metal detectors, to help ensure everyone's safety."
Straus had no immediate comment.
"Everyone has the message now: We want to make the building secure, and we want to use common sense in doing that," said state Sen. John Whitmire, D-Houston , who participated in Thursday's meeting. "We're not going to turn it into DFW airport."
In 2009, long before the shooting occurred, DPS officials who oversee Capitol security had ordered a security review by the U.S. Secret Service. The report is said to have recommended major increases in staffing and the installation of package scanners and metal detectors at entrances and added surveillance cameras.
In the week since the shooting, an increasing chorus of lawmakers has called for boosting Capitol security.
Fausto Cardenas, 24, most recently of Houston, remains jailed on a felony charge in the shooting. He had visited the office of Sen. Dan Patrick, R-Houston , just before the shooting. He unsuccessfully pressed to visit privately with a Patrick staffer, and left .
Earlier this week, Patrick — who holds a state concealed-handgun permit, along with a number of other Texas lawmakers — sent his colleagues a letter advocating increased Capitol security. "However ... I do not want to see those who have a legal right to carry a gun denied their constitutional right.
"Whatever new measures we may adopt, I would not want to stop law-abiding CHL holders from carrying their guns in the Capitol," he stated in the letter. "The goal is to stop those who bring illegal weapons into the Capitol, not those who have a legal right to do so."
Patrick proposed a system where credentials would be issued to Capitol employees, media and others who come to the Capitol regularly — after they pass a background check — "so they can come and go easily." A minimum-security entrance could also be designated for schools and other groups that do not need to undergo major screening. Everyone else would have to go through other entrances with metal detectors and package scanners.
Reached by phone Thursday, Patrick said Texans with concealed-handgun licenses might "put their gun in a tray, go through the detector, pick it up and go," or perhaps they could show their state-issued license and walk around security-screening devices.
Holders of concealed weapons permits must undergo training and pass a background check, among other things.
Why not make the Capitol a gun-free zone altogether, like schools and businesses?
"If you continue to restrict more and more places where CHL holders can carry their weapons, you're tearing away at the intent of the legislation that established this program," Patrick said.